Literatura saksofonowa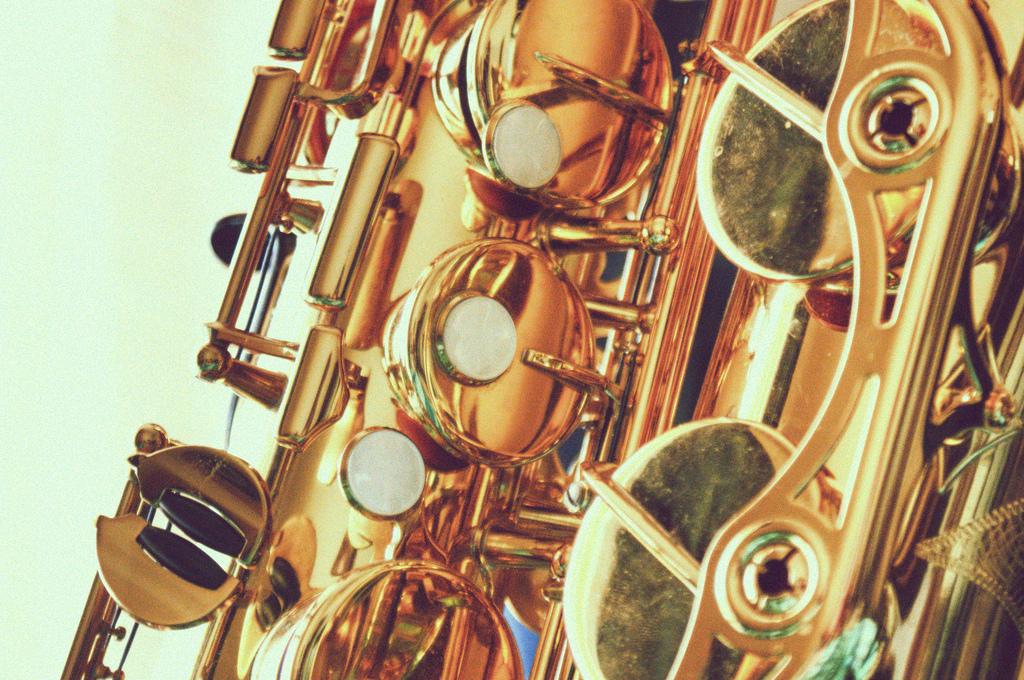 Po raz pierwszy saksofon został użyty przez gorącego propagatora tego instrumentu – Hektora Berlioza w jego "Hymne Monotonne" w roku 1843. Przepisał on istniejącą partię klarnetu basowego na dopiero co skonstruowany saksofon basowy w stroju C.
Pierwszy orkiestralny użytek zrobił z saksofonu francuski kompozytor Jean-Georges Kastner w roku 1844, pisząc "Le Dernier Roi de Jude", a także "Musique Militaire" w 1847 roku. Kastner skorzystał z czterech saksofonów (dwa F alty i dwa C tenory), także w "Polce Carnavelesque" (1857), "Świątecznej Uwerturze" (1860) – dwa F alty, oraz w "La Saint-Julien des Menetriers" (1866), gdzie użył dwa saksofony altowe F,  jeden Es i dwa tenory C. Już w 1845 roku opublikował "Complete and Systematic Method for the Saxophone".
W owym czasie rozpowszechniony musiał być już saksofon altowy w stroju F, bowiem znana jest włoska rozprawa naukowa z 1848 roku p.t. "Instrumentacja praktyczna", w której mowa jest o saksofonie altowym F. Joseph Holbrooke, zafascynowany saksofonem, napisał koncert, sonatę oraz symfonię z udziałem saksofonów Es, C i F. Najbardziej znane dzieło na saksofon to jednak Symfonia Domestca z roku 1904, w której Ryszard Straus użył kwartetu saksofonowego (sopranu C, altu F, tenora C i barytonu F ). Zrobił to zresztą bardzo niechętnie, dopiero pod wpływem nalegań swojego wydawcy.
W latach późniejszych na saksofon pisali: C. Debussy, M. Ravel, D. Milhaud, P. Maurice, P. Hindemith i inni.
Poniżej – przykłady wybranej literatury saksofonowej.
Saksofonowy repertuar solowy
Etudes and Methods
| | | |
| --- | --- | --- |
| 48 Famous Etudes | Ferling | Southern |
| 18 Studies after Berbiguier | Mule | Leduc |
| 27 Melodious & Rhythmical Etudes | J.L. Small | Carl Fischer |
| Selected Studies | Voxman | Rubank |
| Beginning Studies in the Altissimo Register | Lang | Lang |
| High Tones for Saxophone | Rousseau | Etoile |
| Voicing: An Approach to Third Range | Sinta/Dabney | Sintafest |
Repertoire
| | | |
| --- | --- | --- |
| Aria | Bozza | Leduc |
| Syrinx (unacc.) | Debussy | Leduc |
| Choral Varie | d'Indy | Durand |
| Sonata | Eccles/Rascher | Elkan-Vogel |
| Sonata | Fasch/Rascher | McGinnis & Marx |
| Cinq Danses Exotiques | Francaix | Schott |
| Sonata | Heiden | Schott |
| Sonata | Hindemith | Schott |
| Histoires | Ibert | Leduc |
| Sicilienne | Lantier | Leduc |
| Visions Fugitives | Prokofiev/Harrison | Boosey & Hawkes |
| Piece en forme de Habanera | Ravel | Leduc |
| Ballade | Reed | Southern |
| Chanson et Passepied | Rueff | Leduc |
| Three Romances | Schumann/Hemke | Southern |
| Romance | Still | International |
| Sonatine Sportive | Tcherepnine | Leduc |
| Introduction et Danse | Tomasi | Leduc |
| An Abstract | Ward | Southern |
| Six Studies in English Folk Song | Williams, R.V. | Presser |
Books
| | | |
| --- | --- | --- |
| The Art of Saxophone Playing | Teal | Summy Birchard |
| 150 Ans de Musique pour Saxophone | Londeix | Roncorp |
Sophomore Year Etudes and Methods
Daily Studies for the Improvement of
the Saxophone Technique
Teal
Etoile
Daily Studies
Kynaston
Etoile
27 Virtuoso Studies
Iasilli
Carl Fischer
Les Gammes
Londeix
Lemoine
10 Contemporary Etudes
Schmidt
WIM
Nouvelles Etudes Variees
Londeix
Leduc
Studies in the High Harmonics
Nash
 Leeds
 Repertoire
| | | |
| --- | --- | --- |
| Sonata No. 6 (flute) | Bach/Mule | Leduc |
| Concertino | Benson | MCA |
| Improvisation et Caprice (unacc.) | Bozza | Leduc |
| Sonata | Creston | Shawnee |
| Rapsodie | Debussy/Rousseau | Etoile |
| Concerto | Glazunov | Leduc |
| Sonata No. 1 (flute) | Handel/Mule | Leduc |
| Duo | Hartley | Tenuto |
| Petite Suite (unacc.) | Hartley | Crescendo |
| Solo | Heiden | Associated |
| Fantasia Concertante | Heiden | Etoile |
| Fantaisie-Impromptu | Jolivet | Leduc |
| Sonatine | Pascal | Durand |
| Parable (unacc.) | Persichetti | Elkan-Vogel |
| Sonata Op. 167 | Saint-Saens/Teal | Etoile |
| Ballade | Tomasi | Leduc |
| Introduction and Samba | Whitney | Bourne |
Books
| | | |
| --- | --- | --- |
| The Orchestral Saxophonist Vol. 1 & 2 | Ronkin & Frascotti | Roncorp |
| Sax and His Saxophone | Kochnitzky |  NASA Publications |
| Saxophone Soloists and Their Music | Gee | Indiana Univ. Press |
Junior Year Etudes and Methods
| | | |
| --- | --- | --- |
| Paradigms I | Caravan | Dorn |
| Contemporary Saxophone Studies | DeLibero | Dorn |
| 25 Capricen und Sonate (Bks. I & II) | Karg-Elert | Southern |
| 28 Etudes after Messiaen | Lacour | Billaudot |
| 53 Etudes, Book I | Mule | Leduc |
| | | |
| --- | --- | --- |
| Partita in A minor (flute unacc.) | Bach | Henle Verlag |
| Cello Suites I-VI | Bach/Londeix | Lemoine |
| Sonata | Beall | Southern |
| Caprice en forme de Valse | Bonneau |  Leduc |
| Divertimento | Boutry | Leduc |
| Air and Scherzo | Cowell | Associated |
| Concerto | Creston |  Schirmer |
| Concerto | Hartley |  Presser |
| Elegie et Rondeau | Husa | Leduc |
| Concertino da Camera | Ibert | Leduc |
| Sonata | Karg-Elert | Southern |
| Tableaux de Provence | Maurice | Lemoine |
| Scaramouche | Milhaud | Salabert |
| Improvisation I, II & III (unacc.) | Noda | Leduc |
| Sonate | Robert | Leduc |
| Sonata (unacc.) | Rueff | Leduc |
| Sarabande and Gigue | Tull | Boosey & Hawkes |
| | | |
| --- | --- | --- |
| Marcel Mule | Rousseau | Etoile |
| The Saxophonist's Bedside Book | Harvey |  Dorn |
| Hello, Mr. Sax! | Londeix | Leduc |
Senior Year Etudes and Methods
| | | |
| --- | --- | --- |
| 12 Etudes and Caprices | Bozza | Leduc |
| Mirrors IV | Diemente | Dorn |
| 53 Etudes, Book 2 | Mule | Leduc |
| 16 Finishing Studies | Ruggiero | Leduc |
| | | |
| --- | --- | --- |
| Canto IV | Adler | Dorn |
| Music for Saxophone | Bassett | Peters |
| Shadowplays (a.sax, pno, 3perc) | Beavers | Manuscript |
| Sonata in Eb | Brahms/Saiano | International |
| Pastoral | Carter | Merion |
| Gavambodi 2 | Charpentier | Leduc |
| Musique de Concert | M. Constant | Leduc |
| Deux Pieces | Denisov | Leduc |
| Prelude, Cadence et Finale | Desenclos | Leduc |
| Concerto | Larsson | Gehrmans |
| Distances Within Me | Lennon | Dorn |
| Ballade (alto) | Martin | Universal |
| Sonata | Maslanka | NASA Publications |
| Sonata | Muczynski | Schirmer |
| Mai (unacc.) | Noda | Leduc |
| Phoenix (unacc.) | Noda | Leduc |
| Concerto (sax & trpt) | Rivier | Pierre Noel |
| The Nature of this Whirling Wheel | Rogers | Dorn |
| Picnic on the Marne | Rorem | Boosey & Hawkes |
| Legende | Schmitt | Durand |
| Wings | Tower | Associated |
| Portrait | Wildberger | Universal |
| | | |
| --- | --- | --- |
| Les Sons Multiples aux Saxophones | Kientzy | Salabert |
Graduate Study (and beyond…) Etudes and Methods
| | | |
| --- | --- | --- |
| 8 Etudes Brilliantes | Lacour | Leduc |
| Neuf Etudes Books I-IV | Lauba | Leduc |
| Tango-Etudes | Piazzolla/Delangle | Lemoine |
| | | |
| --- | --- | --- |
| Sonata | Albright | Peters |
| Whirled Series | Babbitt | Peters |
| Images (sopnino, sop, alto w/tape) | Babbitt | Peters |
| Duo Concertante | Bassett | Peters |
| Sequenza IXb (unacc.) | Berio | Universal |
| Panic | Birtwistle | Boosey & Hawkes |
| Concert Suite (a.sax & band) | Bolcom | Marks |
| Lilith | Bolcom | Marks |
| Concerto | Brant | Carl Fischer |
| Concertante | M. Constant | Ricordi |
| Concerto | Dahl | European American |
| Sonata | Denisov | Leduc |
| Sonata for sax and cello | Denisov | Leduc |
| Concerto Piccolo (satb w/ perc.) | Denisov | Leduc |
| Concerto (asax w/orch.) | Denisov | Sikorski |
| Concerto | Finney | Peters |
| Music for Alto Saxophone and Electronics | Furman | Manuscript |
| Concerto | Husa | Associated |
| Airline (a.sax & tape) | Krause | Manuscript |
| Holy Roller | Larsen | Oxford |
| Steady Study on the Boogie (unacc.) | Lauba | Billaudot |
| Sud | Lauba | Fuzeau |
| Symphonic Rhapsody | Lennon | Peters |
| Concerto | Martino | Dantalian |
| Concerto | Mays | Manuscript |
| Concerto | Mead | Manuscript |
| Scena (unacc.) | Mead | Manuscript |
| Hiatus Pitch | Moore | Manuscript |
| Concerto | Muczynski | Schirmer |
| GEN | Noda | Leduc |
| Arabesque III | Nodäira | Lemoine |
| Graffiti | Redgate | Lemoine |
| Le frene egare | Rosse | Billaudot |
| In Freundschaft (unacc.) | Stockhausen | Stockhausen Verlag |
| Concerto | Salonen | Hansen-Helsinki |
| Concerto | Schuller | Associated |
| Renewing the Myth | Shrude | Lemoine |
| In Two Worlds (sax w/ computer) | Subotnick | Manuscript |
| Urban Thoughts | Worley, Daniel | Manuscript |
| Divertimento | Wuorinen | Peters |
| Fuzzy Bird Sonata | Yoshimatsu | Billaudot |
Supplemental Repertoire


Tenor Saxophone Repertoire (Freshman through Graduate)
| | | |
| --- | --- | --- |
| Sonata | Anderson | Dorn |
| Trigon, Op.31 | Cunningham | Etoile |
| Sonata | DiPasquale | Southern |
| Pitt County Excursions | Duckworth | Seesaw |
| Ballad in Time and Space | Duckworth | Seesaw |
| Poem | Hartley | Presser |
| Concertino | Hartley | Dorn |
| Sonata | Hartley | Dorn |
| Concertino | Hasquenoph | Heugal |
| Opcit (unacc.) | Hurel | Billaudot |
| Episode Quatriemme (unacc.) | Jolas | Leduc |
| Music for Tenor Saxophone | Karlins | Southern |
| Piece Concertante | Lacour | Billaudot |
| Hard (unacc.) | Lauba | Fuzeau |
| Ballade (tenor) | Martin | Universal |
| Periple (unacc.) | Mefano | Salabert |
| The Upward Stream | Peck | Pecktacular |
| Tre Pezzi (unacc.) | Scelsi | Salabert |
| Sonatina | Schmidt | Western International |
| Concerto | Schmidt | Western International |
| Fantasia | Villa-Lobos | Peer |
Soprano Saxophone Repertoire (Freshman through Graduate)
| | | |
| --- | --- | --- |
| Phases Contra Phases | Arma | Lemoine |
| Accompanied Recitative | Babbitt | Peters |
| Sequenza VIIb (unacc.) | Berio | Universal |
| Six Metamorphoses after Ovid (oboe unacc.) | Britten | Boosey & Hawkes |
| Inner Song (oboe unacc.) | Carter | Boosey & Hawkes |
| Le Chant des Ténèbres | Escaich | Leduc |
| Concerto | Myers | N/A |
| Sonata in G Major | Platti/Rousseau | Etoile |
| Sonata (oboe w/ piano) | Poulenc | Schirmer |
| Concerto | Read-Thomas | Manuscript |
| Lessons of the Sky | Rogers | Dorn |
| Interplay | Ruggiero | Dorn |
| Tre Pezzi (unacc.) | Scelsi | Salabert |
| In Freundschaft (unacc.) | Stockhausen | Stockhausen Verlag |
| Sur la memoire | Sung | Lemoine |
| Distance | Takemitsu | Sikorski |
| Concerto | Torke | Boosey & Hawkes |
| Fantasia | Villa-Lobos | Peer |
| Sonata | Young |  Dorn |
---